The safest solution for banks, jewellery shops, armouries and spaces that require maximum protection.
It is common knowledge that banks and businesses that require maximum security (due to their activity) have vaults to protect sensitive items from theft. But what not everyone knows is how complex a vault can be, what the current regulations require and all the elements that make it up.
Below we detail some important parts so that you can get to know more about this complex and advanced maximum security solution, which are the .
What is a strong room?
Strong rooms are enclosures designed for the protection of any installation that requires a high level of security as required by current legislation.
They can be made of concrete with twisted reinforcement, assembled with prefabricated panels or a combination of both systems.
Our vault doors and strong rooms are manufactured in accordance with the EN 1143-1 standard with burglary resistance grades ranging from II to XIII. In credit institutions, the regulations require the minimum construction grade to be VII, so we can offer certified vault doors and strong rooms*.
In addition, they are fully customisable and are built according to the needs of each client, adapting them to the properties of each installation, thus always offering maximum security.
*According to Ministerial Order 3171/2011, of 1 February, on private security measures, scope of application Spain (consult specific regulations for other areas).

What elements does a vault consist of?
Vaults are not simply a secure enclosure, but are made up of several elements that add up to protection measures and, as a whole, raise the security of the vault to the highest levels.
Some of these elements must be installed according to the regulations, others are optional but also provide benefits in terms of security.
The elements that can be integrated in a vault are the following:
1. Vault doors
This is an element required by legislation, as it is the entry point of the vault. It is essential that it maintains the same level of security as the walls (grade II to XIII according to EN 1143-1) in order to offer the same protection against burglary.
The doors have a flexible and efficient access system, allowing remote opening and double checking (depending on the design of each installation).
They are prepared to accept a maximum of 5 locks, which can be mechanical (key or combination) or electronic, but all certified under the EN 1300 standard.
The number of latches, as well as their diameter, vary according to the resistance class and the model of the vault door, ranging from 7 to 16 latches of between 30 mm and 60 mm in diameter.
Optionally, the armoured door can be fitted with an emergency trap door.
2. Emergency doors
This is an optional element, and is used as an emergency door in vaults and maximum security spaces. It is usually a vault door of smaller dimensions than the main door, which is only used in case of emergency if the main door fails and someone is locked in.
They can be installed in the vault door itself or integrated in an armoured panel of the vault wall, but they must always have at least grade VII resistance to burglary, according to the EN 1143-1 standard (in credit institutions).
3. Security grill
Security grilles for armoured doors are installed on the inside of the vault and thus add an additional level of security to the access to the vault. They are usually installed behind vault doors, but are also common at the entrances to the corridors.
If the vault door is fitted with an integrated escape hatch, the grille should also be fitted with an integrated escape hatch to allow both doors to be used independently.
4. Reinforced panels
Reinforced panels are made of steel sheets filled with high-strength reinforcement and composites (with metallic fibres and several layers of metallic reinforcement inserted in their mass) and allow the construction of vaults where traditional construction with reinforced concrete structure is impossible.
They can be installed on walls, floor and ceiling and all panels are tongue and groove and welded together, so that the vault becomes a single solid and robust structure.
Sometimes the panels are also used to reinforce existing chambers that do not meet the safety standards required by legislation.
5. Ventilation grilles and cable gromrmets
They are installed in the vault panels and ensure the passage of air and connections (electrical and PCI) from the outside to the inside of the vault. Their design and construction are specially designed to maintain the degree of resistance of the vault panel in which they are incorporated. Ventilation grilles are also available for installation in concrete walls.
6. Reinforced compartments
These are installed inside the vault and allow different users to have their own secure space to store their valuables.
The compartments are certified against theft according to the UNE 108115 standard.
7. Safety corridor
It is built as an additional wall before the vault, creating a double wall before accessing the interior of the vault. In this way, a corridor of maximum 60 cm width is created, which allows the circulation around the vault, thus providing a better surveillance and security for the vault. The access to the corridor is closed at both ends with a security grille.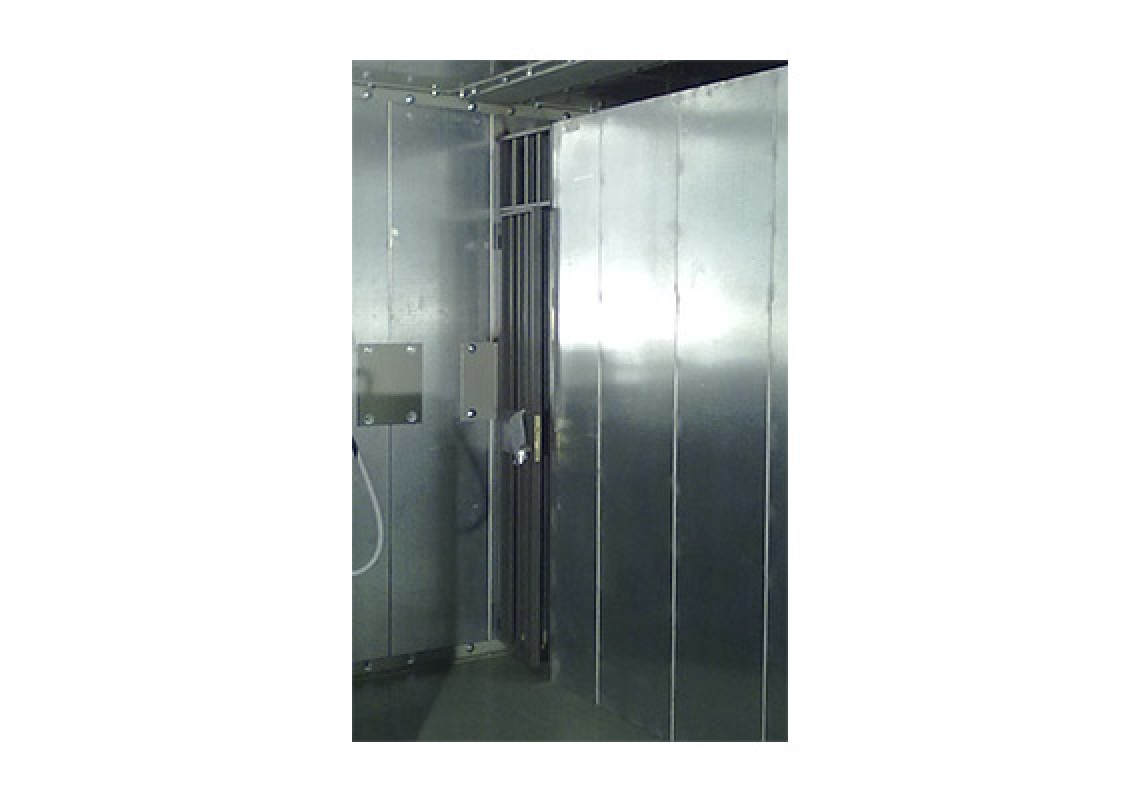 Thus, vaults are not just simple rooms, but complex structures made up of multiple elements (all of them high security) that provide solidity and protection to the whole, making them a reliable and extremely secure solution for high-risk sectors (such as banking).
Consult our specific catalogue of vaults and contact us for any related question .